Do you know my Alma Mater? I guess it´s been on my brain a lot lately as I have been prepping for a new school year. Getting out all my teaching visuals, flashcards, incentive charts and chalkboard writing, has all the memories flooding back from those days in my Elementary Education classes. I do owe a lot to my college education.
I graduated from Pensacola Christian College in May of 1997. I was already married and such a happy, happy newly-wed graduate!
My parents were so key in my college education. They saw fit that my every bill was paid. I worked to pay as much as I could and paid for my books, but they did the rest! Thank- you again, Mom and Dad! Your sacrifice means so much!
Come on and join us for some great flashbacks with your own non-digital Photos.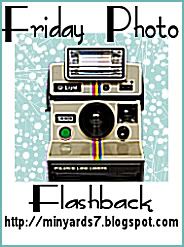 ***Yes, I realize this is a re-post of pictures from one of my first Friday Foto Flashbacks. Actually I didn´t realize till after I did the post. Guess, I have lost more than just 5 inches this past month. Oh, yeah that was my last post. ***