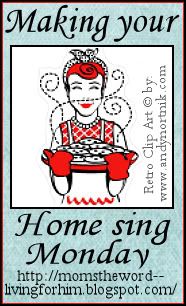 Almost every Monday, I like to join Momstheword for her meme Making Your Home Sing Monday. I was going to post two posts. One about our Sunday News and one about our wonderfully singing home! But, on a day like this, I must merge two posts into one.


"How do those two go together?", you ask.
Well, it seems that our ministry runs into our home and our home runs into our ministry. Thus, When we have church, sometimes it´s mostly our family. Like this Sunday. We were the congregation in our evening service. We had a mini - singsperation and prayer time with my Pastor Hubby, my three boys and I. It´s hard though, after all this time, to think that we still must have services with only our family in attendance.
Please pray for some of our hurting brethern who have decided for whatever reason not to attend church. It not only affects them, but also other brothers and sisters who are looking up to them.


We must be alert and wise to the wiles of the devil. He has a firm hold on this land and doesn´t want to see a church established. We won´t be detered!
May we be found faithful!


This Sunday was also Mother´s day in Spain. We wanted to do something special for the mother´s in our little mission who have been faithful and have become so special to us.
(I had to deliver almost all of these to their homes. For one reason or another, only one of them came to church this day.)


I have a hard time coming up with gift ideas or even being a little crafty so when these gifts turned out, I was so happy. I found these cute mugs at a little over a $1 each and then bought some votive candles to place inside just to add a little more. (besides I love candles!)
A dear Englishman who attends our Sunday morning services brought these beautiful lilies. He grows them in his garden! I was so excited to have some flowers in church! What a nice touch they added!
Here is my crew! They were coerced into wearing matching shirts. They use to love dressing a like. Guess they are growing out of that. I better treasure this picture and the moment while I can.
This is why my home was singing this fine Sunday morning:
1. because, my boys will still put on the clothes I pick out for them,
2. because, they wanted to do it for me,
3. because, I found a whistling stuffed monkey and a crystal candle holder on my bed this morning from my crew,
4. and because, even after all my faults they still love me.
Happy Mother´s Day a week early!