The Arizona Cardinals NFL football team won their first game this season and our home was singing the NFL happy tunes this morning while the boys and I watched our favorite player´s highlights.
The Cardinal´s quarterback Kurt Warner is a very outspoken Christian. We have followed him since he was with the St. Louis Rams in 1998. And Joseph had always been a Rams fan since he grew up watching them in LA. We were able to watch all the of the Arizona Cardinal´s games last year. It was a momentous occasion to see Warner in the Super Bowl once again with the Cardinals.
Some of you are lost now and that´s ok. Let´s just say my life is surrounded by football. If I hadn´t grown up with it all my life, I would be lost too. It has actually become something of a part of home, that we miss greatly being on the mission field.
I think our home would sing even more and even shout for joy a little too, if we could at least watch a full game. We have missed seeing the first two games of the season as the internet streaming isn´t working like it did last year. We make the best of it though.
So on this Monday, what´s making your home sing? Maybe it´s a little thing like family time around a football game. What ever it may be, may Christ be the center.

Posted especially for,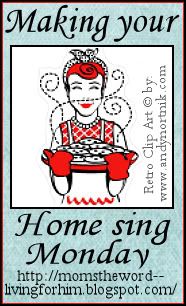 by: