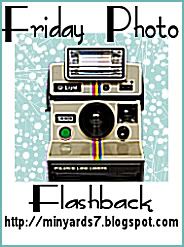 Alicia from More than Words hosts this fabulous meme! What do we do? We get out all those crazy, 80´s and 90´s Photos, scan them and then share. I am still debating about sharing some of those. They maybe too scary to share! Do you dare to flashback?
My boys and I started some flashback posts on their blog too. I have been reminiscing their baby days.
But today, I think I will. Why not?
I think I will go all the way.
YES, ALL the WAY back...
to those high school days of my own.
This is my cousin and I, my Junior year of high school. ( I think)
In my little town, we had a pagent for the Apple Blossom Parade. Every year my school would pick the most poised, intellectual and pretty girl to be the Apple blossom queen, who would get to ride on a float through the parade. (oh brother) But it was fun and nerve wracking for a poor hick girl like me. This dress was not picked out by me. It´s actually the same dress I wore as my Aunts bride´s maid.
(btw.. I was not the queen but did get to ride on the float as lady in waiting and as Miss Congeniality.)
(Btw... My home town was a little bitty town in the North of Hickville with all of 100 kids in my graduating class)
For those into fitness, my Fitness Friday Post is right below.