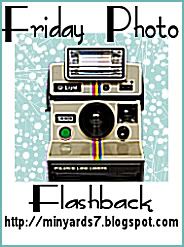 Alicia at More than Words started "Friday Photo Flashback" because she had so many pictures from her PRE-digital camera days. She thought it would be fun to scan them and share them. We are having so much fun doing this, that we would love for you to join us, too! So dig out the photo albums and put your scanner to good use! Don't forget to sign in to MckLinky on Alicia´s blog so we can all visit and comment on each others blogs!
This was such a memorable Christmas. It was my sophmore year of College. I had met the man of my dreams. He was going to come and ask my father for my hand in marriage and meet them all for the first time. As I look back now on this Christmas, it was the last Christmas on the actual day, that we got to celebrate with my side of the family. I went looking for more pictures but, have so few pre- digital pictures.
This is my mom and I. Little did I realize how little I would get to see her as the years progressed. I cherish all them memories and looking forward to this year as we have planned to be with our family for Christmas!
This is my mom´s side of the family.
My mom and dad (left) Me and my brother(top middle) My only first cousin on my mom´s side. (topright)
My Grandparents (middle) My grandpa went home to be with the Lord a few years ago.
My moms middle brother and wife are next to them.
Then my moms oldest brother and his wife are on the far right.
Missing from this picture is my mom´s adopted brother who passed away last year.
Can´t wait to see them all this year!