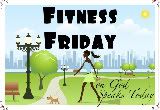 Some Diet Tips for Life:
I have done quite a lot of diets in my short life. I actually started trying diets out with my mom when I was very young. She would start one, and I would try it with her just to support her. I remember even fasting on a vegetable broth diet.. UHHHGGGG!!
Anyway... I think that´s why now I am all about choices. Healthy choices. It´s my Healthy Fitness Journey for life! You can re-learn how to eat a good, healthy, balanced diet. This is the only way to get the weight off and keep it off. (in my opinion)
Heres a little acronym guide fore healthy eating.
A - Almonds and other nuts
B- Beans and Legumes
S- Spinich and other GREEN Veggies
D- Dairy (fat free/sugar free when possible)
I- Instant Oatmeal ( unsweatened) (I use a little honey and raisins)
E- Eggs
T- Turkey and other lean meats ( best to be low sodium)
P- Peanut Butter (SF and Natural)
O- Olive oil
W- Whole grain breads and cereals
E- extra protien (whey powder)
R- Raspberries and other berries
Now these are choices I can live with.
Here are those 10 snacks that help you lose weight, and at the bottom I will give you my personal favorite.
Many of us are trying to start off 2010 with some health related New Year's resolutions. One of the best ways to stay on a healthy eating plan is to enjoy what you are eating and to never let yourself get too hungry! As a way to help you do just that, I am sharing my top 10 favorite healthy snacks. Snacks are vital to a healthy diet; they help keep blood sugars stable, prevent you from getting too hungry at your meals (and then over-eating), and they are a great way to get in lots of needed nutrients. Here are my favorite snacks that you can ring in 2010 with (in no particular order):
Nuts:
Pistachios, almonds, walnuts…you name it! Check out the bite titled "Ready, Set, Go Nuts" to learn all about the health benefits that nuts offer. If you like to eat large portions, go for pistachios – they are your best bet by far – you can have around 50 nuts for just 160 calories! Learn more about the health benefits of pistachio's at The Green Nut.
Chips:
PopChips, that is – these healthy chips are "popped" with heat and pressure, not baked or fried. They come in a ton of delicious flavors and are definitely the best tasting healthy chip out there. Better yet, you get more chips per 100 calories than any other chip on the market, so having a single serving will feel like a satisfying snack. Remember to pair these chips with some dip to help stabilize blood sugars. Think hummus, black bean dip or guacamole as great pairing options.
Bars:
High fiber bars are a very satisfying (and if you choose wisely, delicious) snack option that are portable and great to have on hand for emergency snack situations. Bars should contain no more than ~200 calories, have at least 3grams fiber, no more than 2grams saturated fat, and sugars should mostly be natural (check ingredient list). Some of my favorite brands are Lara, PURE, KIND, Gnu Flavor and Fiber, and Think Organic.
Fruit and Yogurt:
Greek Yogurt and Pomegranate Seeds: Greek yogurt is actually higher in protein than regular yogurt and has a delicious thick consistency. To counter the naturally sour taste, add some sweet, anti-oxidant rich pomegranate seeds. The sweet taste and crunchy texture are the perfect complements to the yogurt.
Peanut Butter Sandwiches
Trader Joe's Peanut Butter with Roasted Flaxseeds on Whole Grain Bread. Enjoy the creamy taste of peanut butter with the added crunch of flaxseeds, giving you a boost of omega 3's. Nothing beats peanut butter on toast if you ask me! If you can't get the Trader Joe's product, there are other natural nut butters on the market that are equally delicious. If you are extra hungry, add some banana for a very filling and wholesome treat.
Low-fat Chocolate Milk:
Often thought of as just a kid's indulgence, chocolate milk is a great snack that can be enjoyed by all. Low-fat chocolate milk is a great source of protein, calcium and many vitamins and minerals. It is an especially great post-workout snack for athletes because it can quickly be absorbed by the body and replenish fuel stores. It is a great on-the-go snack because it is sold in some individual cartons that don't have to be refrigerated (i.e., Horizon Organic); and, of course, it tastes great!
Muffins:
Zen Bakery high fiber muffins have very few ingredients and no preservatives so they go bad quickly if you don't eat them up! Sold at Whole Foods and Trader Joe's, these are delicious muffins that are actually healthy for you. Try any of the bran muffin varieties. Hard to find substitutes here, so if you don't find this brand, don't buy just any bran muffin—they tend to be loaded with fat and calories.
Lite Popcorn:
Popcorn is a naturally high fiber food because it is actually a whole grain! As long as you avoid the buttery movie theatre popcorn varieties that have a ton of added fat and calories, popcorn is a great snack option. For an added twist, kettle corn has both sweet and salty flavors, which will get all of your taste buds kicking (Trader Joe's makes a great single serving bag of this).
Cheese and Crackers:
Ak Mak Crackers are 100 percent WHOLE GRAIN crackers...not just "made with whole grains", but 100 percent whole grain. This is rare to find in a great tasting cracker! Add some delicious, Light Laughing Cow Cheese Wedgesand you have a great snack to keep you going.
Shrimp with Cocktail Sauce: This snack can be a great pre-dinner snack to tide you over to the main meal without having a big impact on your calorie intake. Shrimp is a high protein, low fat and low calorie food. In fact, 4 ounces (about 20 large) shrimp only have about 100 calories and 23 grams protein! For a perfect complementary dip, add some cocktail sauce. The main ingredients in cocktail sauce are ketchup and horseradish – both low in calories and fat – so the sauce is naturally healthy. A standard 2 ounce serving has ~50 calories. Even better, if you have the time, make your own cocktail sauce—take a good dollop of ketchup and add a teaspoonful of horseradish from the jar; add an equal pinch of salt, pepper, sugar and a splash of lemon; mix it up and add more horseradish (or ketchup!) to your liking—tastes so much better than premade.
Los Angeles nutritionist Alyse Levine MS, RD, founder of NutritionBite. Visit her profile on LIVESTRONG.COM
No Sugar added Dark Chocolate with Raisins. Add almonds if you need more protien or for a mid- day snack.
Hope these help you when you go to grab a snack. Remember to eat every 4 hours.
Springin´into shape with ya,
Click picture to join!