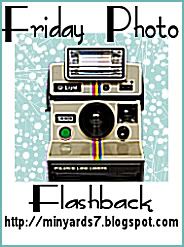 My desk top got sick now. I believe our viruses affected it, too! This is an old picture that was on one of my web albums. Its little and you´ll have to excuse the quality but here it is! PROOF!
Proof that my boys do look like me. Well, at least my middle son, Andrew, does. Yes, That´s me in the middle picture. Look at that carpet on my head. And I thought my boys got all that hair from my husband!
Alicia @ More than Words started "Friday Photo Flashback" because she had so many pictures from her PRE-digital camera days. She thought it would be fun to scan them and share them with everyone. We are having so much fun doing this, and would love for you to join her, too! So dig out the photo albums and put your scanner to good use! Go on over and link up.
Happy Friday!!